London Is The Place For Me
It began as a two-week festival to mark Trinidad and Tobago's 50 years of political independence in 2012, co-curated by Dominique Le Gendre and Melanie Abrahams and commissioned by the Trinidad and Tobago High Commission for their 2012 Cultural Village at the Tricycle. In 2014, London Is The Place For Me ran as a two-day festival at the Tabernacle curated by Melanie Abrahams and in 2016, it presented as a one-day festival at the British Library (2016) co-curated by Melanie Abrahams and Colin Grant.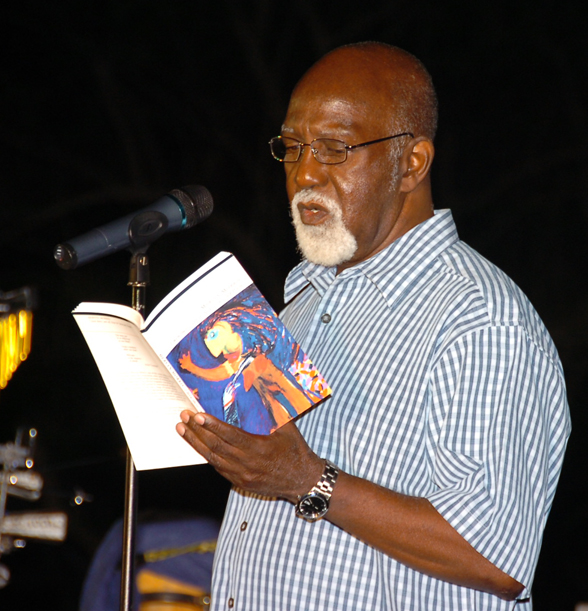 Jubilation!
In Jubilation!, over fifty living, contemporary Jamaican poets reflect in complex, nuanced, outspoken, meditative, humorous and outrageous ways upon the historical and existential moment of Jamaican independence from Britain and the years that have followed. Edited by Kwame Dawes, a majority of the poems were written for this anthology and are previously unpublished. It includes work from the best known poets of the last fifty years, as well as some of the new and exciting voices that remind us that Jamaican poetry is a vibrant and necessary force in Jamaican cultural life. It is by no means the first anthology of Jamaican poetry, but until Jubilation! none has appeared for several decades.
A Story I Am In: James Berry Benefit
Acclaimed poet James Berry celebrated 90 years of poetry, stories and song in 2014. James was diagnosed with Alzheimer's disease in 2004 and has been in residential care since 2012. During that time he has been in five different care homes and has spent four months in hospital. Despite the serious nature of his illness he continues to enjoy listening to poetry and talking about everything under the sun.
In this special fundraising event at the Tabernacle on Friday 27 September 2013, nineteen outstanding poets and performers shared a stage to mark Berry's life in words and to bear witness to his contribution to the transformation of the national, Caribbean and international literary landscapes.
The line-up featured John Agard, Hannah Lowe, Andrew Motion, Linton Kwesi Johnson, Grace Nichols, Roger McGough, Michael Rosen, Inua Ellams, Keith Waithe, Michael Horovitz, Susanna Howard, Myra Barrs, Melanie Abrahams, James Ingham, Dean Atta, Philip Cowell, and Lovers Rock Monologues (featuring Janet Kay, Victor Romero Evans and Carroll Thompson). The event was hosted by Ian McMillan.
The event was created by The James Berry Fundraising Project, a Collective of those who are close to James and supporters of his work, Myra Barrs, Susanna Howard, Hannah Lowe and Melanie Abrahams. The event was produced by Renaissance One with partners Living Word, English Pen and The Tabernacle.